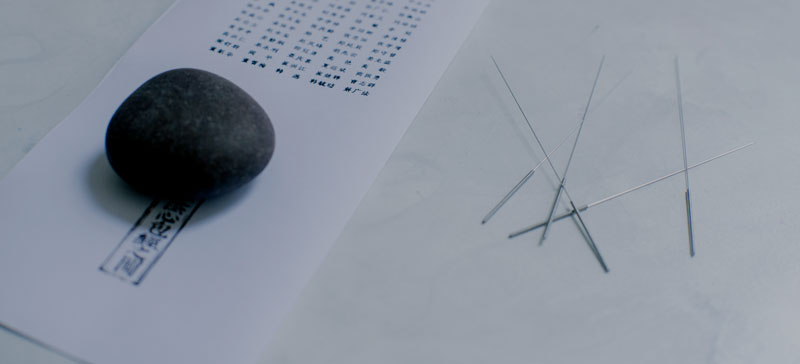 Trish explains about the procedure and how it works, which puts you at ease from the start. 
I have had two acupuncture treatments over the past six months and on each occasion have experienced great relief from pain in my neck, shoulders and back. The whole ambience of the clinic is relaxing and welcoming.
Excellent, unhurried treatment in bright, clean and tranquil surroundings. A genuine interest in patient wellbeing was evident.
You seem to have improved my circulation so much that when I went for my circulation test, it was normal! My feet have been much warmer and my toes have been a nice normal colour and no soreness at the tips.
Very pleased with all aspects of treatment. A very professional service.
 My apprehension of the unknown soon disappeared with the friendly approach on arrival. The whole atmosphere was calm, restful and professional throughout. Acupuncture definitely changed my life (I am not being dramatic) and I am still feeling the benefits.
My headaches dispersed and after three treatments I can honestly say I felt more balanced and energetic than in years.
I have found that acupuncture has been a great success for my depression and PMT. Coming to sessions has always been something I have looked forward to because you always made me feel as if I was your only patient and that helping me was your priority.
I was most impressed with the whole experience in particular the acupuncture, the massage and advice given. I experienced relief from the very first treatment which improved through the remaining three treatments and am continuing with the exercises given.
I received acupuncture from Trish for relaxation. I left feeling totally relaxed and fearless about my impending delivery. I received acupuncture at 4pm and by 6.05 am the very next day I was holding my daughter in my arms! Recommended treatment for any full term fed-up pregnant lady! Thank you!
I felt so much better after the treatments and gradually my health and the use of my arm returned to normal.
I was impressed by the thoroughness of your questioning on my initial visit, and by the follow up at the start of each subsequent appointment. The physio exercises are now taking effect – no doubt helped by the fact that I can do them better as it doesn't hurt! And my mobility is greatly improved.
I found the whole experience calming and peaceful. I started sleeping again after treatment. I had been relying on sleeping tablets for some time. I particularly liked the head massage.
Trish has given me tools – dietary, massage etc that I can work with myself and has always been extremely attentive, kind and caring.
The treatment was understanding, informative and very helpful and given in a relaxing but professional manner.
I have realised that if I have an acupuncture session at the first sign of my back problem it nips it in the bud and stops the need for painkillers and anti-inflammatory drugs.
I felt much more comfortable after Saturday's treatment, and from Monday onwards I have been getting steadily back to normal thank goodness. What a relief to be able to move around without pain.
Having had a very painful foot for months I decided to try acupuncture, after only two treatments the pain has gone. I am only sorry I did not go earlier.
Initially I was uncertain if acupuncture was appropriate for the congestion and tiredness I was suffering, but at the third treatment I felt a distinctive improvement. The clinic was very comfortable and the atmosphere welcoming, without being overbearing.
If there is one thing that terrifies me it is the thought of someone sticking needles into me. Having tried every avenue known to medical science to cure the terrible discomfort I had suffered from a trapped sciatic nerve, I took the advice to try acupuncture. How I wish I had taken that course way back when the trouble first started.
After suffering Irritable Bowel Syndrome symptoms for well over 7 years this is the first relief I have experienced.
Having tried physiotherapy and the osteopath, without any success, I thought I would try acupuncture, and it worked.
My right shoulder had been a problem for 20 years. At the end of the treatments I was able to move my arm freely, sleep on that side which I couldn't previously, and it has eased the pain.
I was put at ease and felt the benefits following the treatment. The clinic hits the right balance in terms of décor and feel – it is professional without feeling too clinical and is in fact extremely welcoming.
I found the whole experience very relaxing and got used to the needles very quickly. The premises are very well presented and Trish is very easy to talk to and seems committed to only giving treatment that will add value.
I enjoyed the professional approach of the staff whilst at the same time benefited from a relaxed, friendly atmosphere.
I benefited a great deal from every aspect of the treatments and the problems that I was experiencing – largely due to stress. I have to say I was a little sceptical at the beginning but was wholly converted by the time I finished.
I was very impressed with the initial consultation and the depth into which my condition was discussed. The treatment itself was extremely relaxing and I felt the results almost immediately.
The treatment I have received has been very beneficial to me. It has helped with my pain and also made me feel better in myself. I feel more healthy, less tired and have more energy.
Having had acupuncture at various places and for various reasons before, I had a benchmark for the treatment I received with Trish. I was most impressed with her professionalism and her manner.
The treatment was highly effective, and I have recommended it to everyone. There is no added mysticism or fake exoticism, which adds to the reliability of the treatment.
My finger was painful and very swollen, but after my very first session, the swelling subsided and my finger has continued to improve. Excellent therapy in relaxed calm environment. Many thanks.
The benefits I received were that the pain in my left arm, due to a trapped nerve in my back, started to ease after the first treatment, something that had not happened in over three months of constant pain.
I was very impressed by the way my 'whole self' was considered – lifestyle, medical history, present condition – before treatment was started.
I felt much better even after just one treatment and have continued to be myself ever since. I felt you have given me my life back. I have followed your advice.
I have more energy, a stronger immunity to colds, a greater resilience to everyday 'stress', much reduced PMT and a general feeling of wellbeing.
The overall experience was excellent. My pain and discomfort were reduced and I was given a clear explanation as to the problem with my back and how I could help improve it.
Having had a very painful foot for months I decided to try acupuncture, after only two treatments the pain has gone. I am only sorry I did not go earlier.
The pain in my elbow joint has virtually gone. It only hurts me now occasionally whereas before it was constant and dragging me down. I intend coming back for top ups!
The full explanation of 'whys' and 'wherefores' is very reassuring. For the first time in years I can turn my head without pain – wow!
Address
Leighton House
Leighton Business Park
Chester High Road
Heswall
Wirral
Merseyside
CH60 3RZ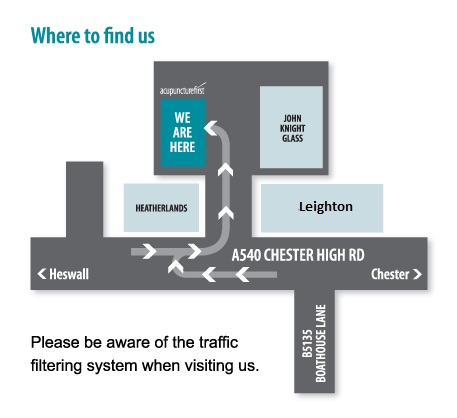 Directions
We are located just off the Chester High Road, about half a mile from the Gayton roundabout and 10 minutes from Junction 4 M53.
Turn left at the 'Welcome to Cheshire' sign, between the Heatherland and Leighton Car garages (opposite Boathouse Lane).
The John Knight Glass showroom is straight ahead and, as you go through the gates, you will see the Acupuncture First clinic to your left.